Olympic aspirations motivate deaf water sports student athlete
November 30, 2015
If water polo isn't difficult enough, a player on De Anza's men's team has one more challenge – communicating with his teammates through an American Sign Language interpreter on the pool deck.
Evan Garcia, 26, is hard of hearing and aspires someday to compete in water sports at the Deaflympics.
"Right now I need to improve my skills, " Garcia said.
In the fall of 2014, Garcia decided to join a swim class at De Anza to explore his passion for water sports. Since then, he has joined three teams: swimming, diving and water polo.
"They distract my mind from the fact that I'm actually doing a workout, " Garcia said.
He enjoys the teamwork of water polo, but also the independence of swimming and diving.
He sometimes finds it difficult to focus on the interpreter during a game because he is solely concerned with his positioning and helping his team win.
At water polo practice, when his interpreter is not available, Garcia communicates with his coaches and teammates through a whiteboard. He has also taught his teammates some ASL.
"The most important key is my teammates and coaches give me hand signals, body language and gestures to communicate with me," Garcia said. "If they need to get my attention they have to wave or stop me."
As he was growing up, Garcia's parents tried to get him involved in many different activities, but the only place he desired to be was in the water.
"When I was a little kid I always wanted a swimming pool and never had one," Garcia said. "So my family and I went to beach every sprin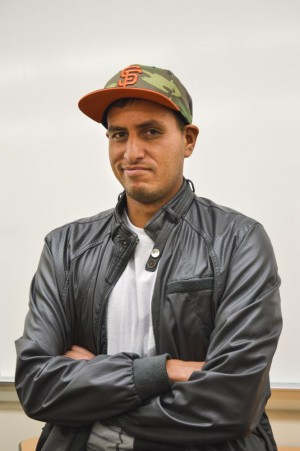 g and summer."
Video games, working out, cooking and other outdoor activities take up his time away from De Anza.
Having attended both mainstream and specialty deaf schools, Garcia said he got more out of mainstreaming because he felt it moved at a faster pace.
He is majoring in graphic design at De Anza and plans on getting an associate's degree. Garcia wants to transfer to a university and study art business while continuing to play water sports.
"I'm so very lucky to have that opportunity at De Anza College," he said.
Hearing people should not be afraid to interact with deaf people, Garcia said.
"Please have friendly communication with them. They deserve to be part of our world and share our cultures."