"Endangered" reception brings together art, music and dance
November 15, 2015
One. Two. One. Two. Three. Four.
The fluid jazzy melody fills the hall of the Euphrat; Abraham and his band opens the "Endangered" reception on Nov. 12.
Around 50 people crowded the museum to hear the artists speaking about their works, as well as to enjoy the music, food and a dance performance at the reception.
"It was nice to see a combination of people from community, college and different walks of life," said Diana Argabrite, a curator of the museum and the exhibition. "I feel happy when art brings people together; people that wouldn't meet otherwise."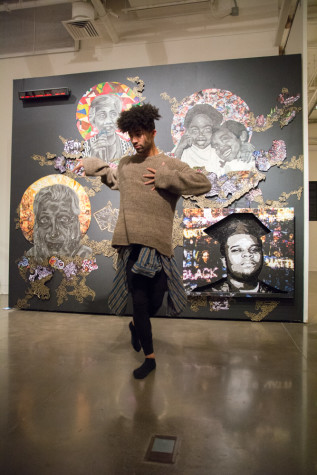 De Anza students and invited artists worked on creating the exhibition.
Some of the topics their works address are the language of protest, as well as endangered languages and humans.
"To protect and preserve not only languages but people" is one of the main messages of the "Endangered," Argabrite said.
After presenting several works and artists, Argabrite gave the stage to Brandon Davis, 21, communication major. Barefoot and with a t-shirt around his waist, Davis began to dance.
Sliding across and silently falling onto the stage, Davis performed with the rhythmic, but sad, song. His movements changed as the song developed, getting more abrupt and expressive.
Davis explained that with his dance, he wanted to show how endangered it is to speak with vulnerability, how important the expression of feelings is, however weird they are.
"It does not happen enough," he said.
The audience gave Davis loud applause, and Eric Rottenberg, a content production manager, said the dance made him feel prideful.
Argabrite finished her introduction by bidding the audience to eat as much as they can. The smell of oranges and samosas filled the space.
People straggled around the Euphrat, and the jazz started once more.
"I didn't expect the music to be so nice!" said David Brown, 33, software sales.
"It keeps the mood going," Victor Castillo, 19, art major, said.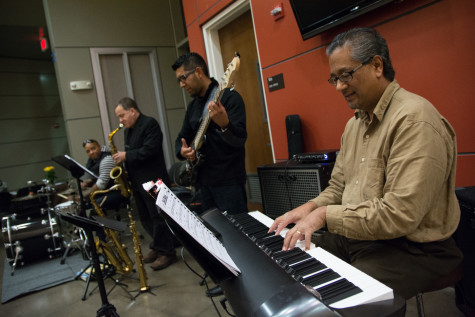 The work "Activism," which faces the entrance of the museum grabbed people's attention first. De Anza students created it in cooperation with visiting artist Titus Kaphar and De Anza students.
This summer, during a one week workshop called the Art and Social Justice Institute, they put together an installation that occupies the whole wall.
Castillo attended the institute and said that he learned a lot there, meeting new people and learning to work in different techniques.
"It was insane!" Castillo said. "It pushed me out of my comfort zone."
Another attendee, Khadijah Silva, 21, fine arts major, said that she enjoyed working with Kaphar who made her go in-depth to search for herself in that project.
Rich in golden color, "Activism" consists of five elaborately ornamented portraits.
Silva presented portrait of her and her sister. She said that the portrait represents how they were "their own voices, their own protest."
"We wanted to give a voice to living who need to fight everyday," Silva said.
Other parts of the installation include a circle with the names of transgender women killed this year, and a portrait of Michael Brown.
Brown's portrait is placed deeper into the wall, leaving a silhouette of his face closer to the audience. Argabrite explained that students wanted to show that only the absence of this person made so many people think about his life, and the importance of anyone's life in general.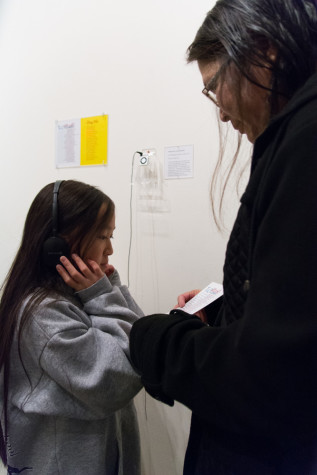 "It was interesting to see the connection by the loss," said SJSU student Clara Binding, design studies. "But at the same time you see how they struggle to gain something."
While "Activism" speaks about the language of protest and endangered people, many works on the exhibition address the extinguishing languages.
Co-curator of the exhibition Hanna Regev pointed out that out of 7000 languages existing now, half of them will disappear, and thousands of years of knowledge will be lost.
Some of the works were not visual, but auditory, and Andrew Shiah, 22, nursing major, said that it gives people a rare opportunity to listen to the extinguishing languages.
"Everyone takes on the theme in a different way," Kyle Badshorov, 21, art major said. "It makes me think of how we are living together in melting pot of cultures and languages."
"Endangered" is on display till Dec. 3, open Monday through Thursday from 9 a.m. till 3 p.m.
Argabrite said that the artists wanted to bring awareness with this exhibition.
"No matter what happens to the endangered languages," Regev said, "I know we will keep the spirit alive."