Protesters participate in peaceful Black Lives Matter 'die-in' protest hosted by local NAACP
June 6, 2020
In solidarity with the Black Lives Matter movement, thousands of peaceful protesters lay on the ground outside San Jose City Hall June 6 to honor the victims of police brutality, using signs painted with phrases such as "Defund the police" and "Justice for George Floyd" to shield themselves from the sun.
Hosted by the National Association for the Advancement of Colored People, the protest culminated with a 5:30 p.m. "die-in" in which protesters lay on the ground limp to simulate being dead.
There were no uniformed police officers present at the event.
Keelehi Ajawara, a student at Loyola University New Orleans, said she attended the protest to fight against police brutality and the injustices that black people face at the hands of the police.
"Enough is enough," she said. "People are fed up. People are dying."
In anticipation of the die-in, protesters chanted "Say their names" as a speaker recited the names of people of color who had been killed by police, including George Floyd, Eric Garner, Pamela Turner and many more.
Their chants echoed off of the buildings of City Hall, and erupted out onto the streets.
The protesters laid down on the ground for eight minutes to commemorate Breonna Taylor, who was shot eight times and killed by police in her home on March 13.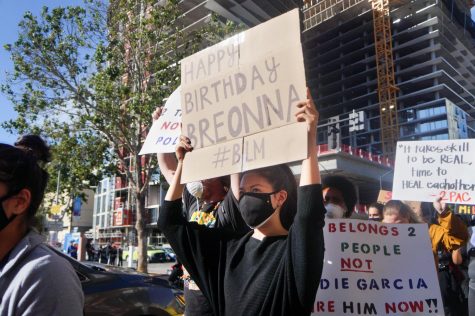 Taylor would have been 27 years old on Friday.
They also commemorated George Floyd, who was killed by a police officer in Minneapolis. The police officer had his knee on Floyd's neck for 8 minutes and 46 seconds.
Outside of the main crowd on the sidewalk, protesters pumped their fists into the air and waved signs at passing cars; a fire truck honked back at them in solidarity.
On top of the shouting protesters, other supporters and local restaurants passed out free water and food to those in the crowd, as well as squirts of hand sanitizer.
Ajawara said that she and her friend were followed by police at Tulane University, who were yelling their names. She said that as a black woman, this made her uncomfortable.
"I don't feel safe around any police officer," she said. "I don't trust any police officer. I don't even call the police when I'm in trouble, that's how much I don't trust the police."
In addition to the chants and honking, speakers' voices, who were selected by the NAACP, boomed over the speaker system. They talked about how to fight back against police brutality in support of the Black Lives Matter movement, and how to stand alongside black people in their fight.
One of the speakers was Matthew Dumanig, De Anza alumni and San Jose State student. He represented the Kabataan Alliance, a Filipino youth grassroots organization to show that the Filipino community stands with the Black Lives Matter movement.
"We need to acknowledge the anti-blackness within our communities and do the work to educate ourselves and others to remove that," he said. "We have to take this step of being able to do the work alongside the black community to be a part of their movement."
Dumanig said that despite calls for police reform, more needs to be done.
"I do not think we can reform a tool of the system, because the system will do whatever it can to protect itself, and in this case, it's pressing the protesters. Because the protesters are standing up for something that the system doesn't believe in."
An anonymous California State East Bay student said this was her first Black Lives Matter protest, and that she was shocked at how many people came.
"It's kind of saddening," she said. "I've never seen so many people in front of City Hall. That means this is really important."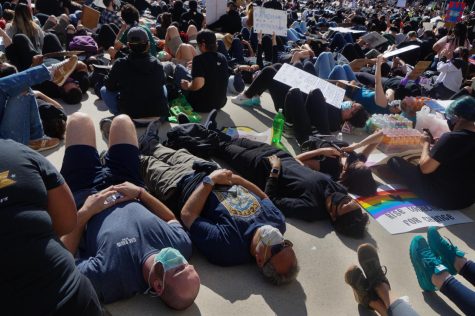 As 5:30 p.m. struck, the crowd silently laid on the ground for eight minutes, and then, as they got up, a band of three tubas and multiple drums began to play.
Following the demonstration, protesters poured into the streets and peacefully marched nearly four miles from San Jose City Hall to the downtown San Jose police station and back.
After the area was cleared, Native American performers formed a circle and performed traditional dances to the beat of drums. They were dressed in traditional clothing, adorned with feathers, beads and an array of colors.
Ajawara said she appreciated how many people came out and hopes that police brutality will be stopped.
"I'm happy to see so many people from not only the San Jose community, I know people from out of state that have come," she said. "I'm just happy to see everyone standing together to end police brutality. We deserve justice."
In order to keep the momentum of the movement going, Dumanig said he believes that it will take more than following what is trending on Twitter, or an isolated incident of brief solidarity to bring about genuine change for the black community.
"[We need to be] able to build a relationship with black organizations, so that we're constantly part of their fight against social injustice," he said, "You need people really plugging in being part of organizations that are working to see systemic change to the end."