DASB senate sworn in; president predicts "problems with partisanship"
April 13, 2018
The incoming DASB Senate was inaugurated into office for the 2018-2019 term on Wednesday, April 11.
Per tradition, the outgoing president Kalani Hettige, engineering major, swore in incoming president Khaled Haq, 18, business major. Haq then swore in the other incoming members of the senate.
He said he hopes to give each committee the independence to pursue their own goals.
Haq's main goals as president are to see revenue increase and to monitor the overall functioning of the senate, but he hinted at potential issues building up early in the term.
"I'd like to believe that we are all working together on the same page," said Haq, but "I do foresee some problems with partisanship and caucuses that might block us from making big decisions in the future."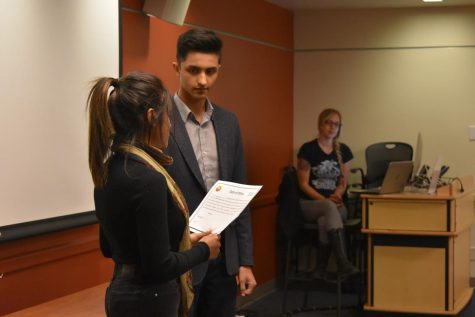 The rest of the meeting was to help train the new senate.
Outgoing senators Kamyar Ryan Saii, 19, business major; Amanda Le, 21, business major; Lawrence Liu; Raphael Villagracia, 20, political science major and Kimberly Theresa gave a presentation describing their respective committees' jobs to help senators decide which committee they want to join.
ICC adviser La Donna Yumori-Kaku, ICC representatives Rex Zhang, Angela Lei and Nway Htet Htet Aung and the flea market coordinator Yali Zhu introduced themselves to the senate as well.
The senate is to have another training session on Saturday, April 14 at the Kirsch Center.