Student government peer evaluation evokes controversy
December 5, 2016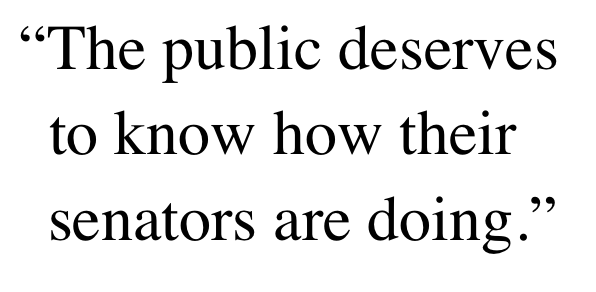 The DASB Senate stumbled into  disagreement at its Nov. 30 meeting over a proposal to conduct peer evaluations.
Senator Holly Iong proposed a system through which all senators would be able to rate each other's effectiveness on a scale of one to five. The score averages would then be made available to the student public.
"Instead of doing this, why not at our leadership training … just tell the truth [about each other]? Because I think this is very controversial, and people can just use their biases," said senator Faiz Mujadid.
Non-senate outsiders also took the floor to warn of problems that could ensue, including Eddie Cisneros, president of De Anza's Political Revolution club.
"This will create a shitshow," Cisneros said. "This should be done at the start of the new quarter, so that there can be guidelines and a way to see improvement from beginning, to middle, to end."
Senator Chi Tran disagreed with Cisneros by noting that a postponement would be counterintuitive, given that the Spring quarter will likely be the last for the majority of the Senators.
While many shared Mujadid's opinion regarding potential bias and unnecessary conflicts, senators Dara Streit, Tran and Indu Kundam voiced their support for the initiative, citing a need for public accountability and self-improvement.
"There can be solid regulations and restrictions on what you can and cannot say [in the review]," Streit said. "Keep it very professional, and I mean very professional."
"The public deserves to know how their senators are doing," Streit said. "What are we so afraid of the people seeing? Are we hiding something? The public is allowed to come to our meetings."
Tran said the senate peer evaluation initiative should not be seen as an attack, but as a way to improve upon the criticisms of others.
John Cognetta, the director of College Life and faculty adviser of the Senate, voiced his staunch opposition to the motion, arguing that there were insufficient guidelines in place and that such a proposal would devolve into a hitlist. Senator Victor Lim agreed.
"We all saw what happened two quarters ago," Lim said, alluding to the impeachment but failed removal of Senate President Matthew Zarate.
Zarate, a controversial figure within the Senate, assented that personal bias could damage reputations and added that public ratings would encourage negativity in future elections.
As the discourse continued, a general sense of comfortability toward a peer review process emerged, yet the issue of public availability served as its deathknell. Senator Kurumi Kasaki and other senators joined in endorsing notions of self-improvement while denouncing a public record of score averages.
Contentions came to an end as senators remained undecided, agreeing that the proposal could be considered in the future.
"We all had mixed views," Kundam said. "We might talk about it more next meeting."
Senators also discussed a need for energy conservation and community improvement through the use of their ecofund, an account designed for education and innovation.
Members unanimously approved allocation of several thousand dollars toward separate projects including water conservation, a clothing exchange and a solar umbrella investment.