Remembering the fall of Saigon with those who lived it
Students, faculty share stories of immigration to the U.S. after the Vietnam War
May 17, 2016
Vietnamese-American students and faculty garnered emotional responses from those who attended and shared stories about fleeing Vietnam at the end of the war.
Black April, which was held at the Hinson Center Conference Rooms on April 28 in front of a large and diverse audience, reflected on and remembered those who emigrated by boat from Vietnam after the Fall of Saigon on April 30, 1975.
"We were out on the vast ocean for 10 days," said K.D. Le, a counselor and professor who has taught at De Anza for 21 years. "We were attacked five times by Thailand pirates, but they were nothing more than fishermen who took the opportunity to attack us, to rape the women, to beat the men."
According to the Migration Policy Institute, approximately 125,000 Vietnamese immigrants migrated to the U.S. from Vietnam after the war to escape the communist government and political violence.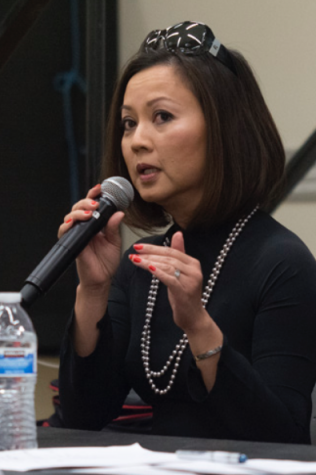 Le emigrated from Vietnam on a crowded boat when she was 11 years old in 1980. She said that they had run out of water during their time at sea, a common struggle faced by many of the boat people on the open ocean.
"There were a couple people on my boat who drank the kids' urine because we were out of water," Le said. "I couldn't do that, so my mom had to mix sugar with ocean water. I couldn't take that either."
After 10 days at sea, Le arrived in Malaysia, where she stayed for a year and a half at a refugee camp before moving to the Philippines. Six months later she moved to U.S.
Le said her experience was like a spiritual awakening for her.
"I felt like if I survived that, there's nothing in this world that I could not handle," she said.
In the U.S., 40 percent of the 1.7 million Vietnamese- American population lives in California, with the largest population of 100,500 in San Jose, according to the 2010 U.S. Census.
DASB senator Kevin Hoang, 20, political science major, said his family moved to California "because they saw palm trees, and it reminded them of Vietnam."
Hoang's grandfather served in the South Vietnamese Army during the war and was able to take his family to the U.S. thanks to a policy that allowed South Vietnamese soldiers and their families to immigrate.
Despite leaving the country to evade the violence, the traumatizing experiences of war still followed many to their new homes.
Hoang was eight when his grandpa told him he came from a time of war. His grandpa told him he refused to be taken to a reeducation camp, so North Vietnamese soldiers killed his brother.
"Still to this day, he wakes up with post-traumatic stress, and I have to live with that," Hoang said.
Thảo Lê, 19, majoring in liberal arts with social and behavioral science focus, expressed the importance of maintaining the dialogue of our own history.
"Second generation Vietnamese people play an important role in getting this
dialogue across a political apathy when it comes to our generation," Lê said . "They feel the trauma of their parents, but they don't really process it because they're so focused on being successful in the American society."
She said events like Black April are "not an attempt to get us all on the same page, but at least share these experiences."
Quang Anh Nguyen, 21, liberal arts major, was born in Vietnam and arrived in the U.S. three years ago as an international student.
Nguyen said in school, education on the Vietnam War was generally limited to the efforts and achievements of the communist government. It was at a Vietnamese-American community event in San Jose where he and his friends learned of the difference in perspective.
"They were saluting the (South Vietnamese) flag… and we were a little bit surprised because the flag that the Vietnamese-Americans were saluting wasn't the Communist flag," Nguyen said. "When I got here, I finally understood we were victims of different fighting ideologies."
"A lot of people learn about the Vietnam war from history books and that's very incomplete," said Michelle Bounkousohn, 20, political science and anthropology major.
Bounkousohn helped organize Black April and showed documentaries she produced on her mother's experiences leaving Vietnam, and the experiences of her own Vietnamese professor, Dzuong Nguyen.
"People who are affected by the Vietnam war are people you see in your everyday life," Bounkousohn said. "My mom is a mail carrier … and the little brother she left with is a techie in the Silicon Valley."
Bounkousohn said she was surprised by the emotional impact of the event.
"We didn't expect it to be so healing and genuine,"she said. "It just surprised me how emotional and connected the space was."