From morning reports to treating patients at risk for COVID-19: a day in the life of a nursing student

3

min read
November 19, 2020
After getting a chemistry degree and working for medical device companies, Forrest Stout realized that he didn't enjoy the environment anymore. Now a nursing major at 39, Stout is adjusting to a schedule changed by the pandemic. 
Stout said the biggest changes are the screening process and no longer carpooling to the hospital. 
Stout begins with a morning report, during which nurses and staff discuss tasks that students need to complete within their hospital unit. Afterward, Stout cares for patients in his former psychology unit and works on assignments to learn nursing skills.
"In psych, what we're doing with patients is focusing a lot more on communication, assessing the patients, keeping them safe," Stout said. "There's a lot less medications or care for wounds or surgery procedures."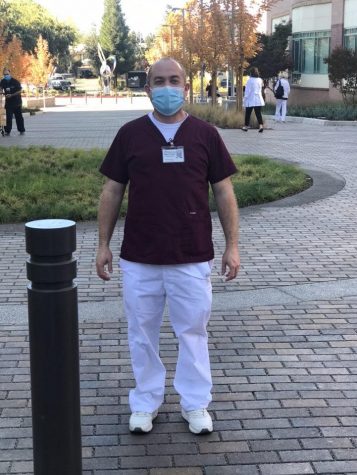 Stout is now in his first week of the gerontology section, where he is working with older adults.  
"For the gerontology group, there's a population of people, due to their age and maybe due to medical complications, [that] are at high risk of COVID," he said. "So those units are taking them very seriously." 
For his lunch break, Stout brings his own food rather than getting it from the cafeteria due to the pandemic. To reduce transmission, the hospital has increased outdoor seating for people on their break and disabled the water fountains. 
"As a student, I've been bringing my lunch and a few water bottles with me every day so that I'm not going to the cafeteria [and] not trying to use water fountains," Stout said. 
At the end of a clinical day, Stout goes home and has a post-conference discussion on Zoom with his class. 
"Once we're home and everybody has enough time to get home and take off our scrubs from the hospital and put those in the washer, then we meet up on Zoom," he said. "We discuss the events of the day and get further instructions from the instructor."
As he studies, Hannah Miley, babysitter and friend of Stout, said she awaits the day that he becomes a registered nurse.
"To be a nursing student during a pandemic is a call to duty that not every person is able to answer," Miley said. "Forrest has shown perseverance, adaptation and compassion with integrity." 
Stout said nursing is a skill that goes beyond the job with helping patients with their health. It's a job that he can walk away from everyday feeling good. 
"It's a genuine skill outside of just making money," he said.
Stout added that, because of the increased demand for nurses during the pandemic, a nurse has a greater chance to impact people's lives. 
"Even if there are some things that didn't go well, there's bound to be some things that did go well," he said. "So I'm looking forward to that kind of daily affirmation that the work I do is important.".