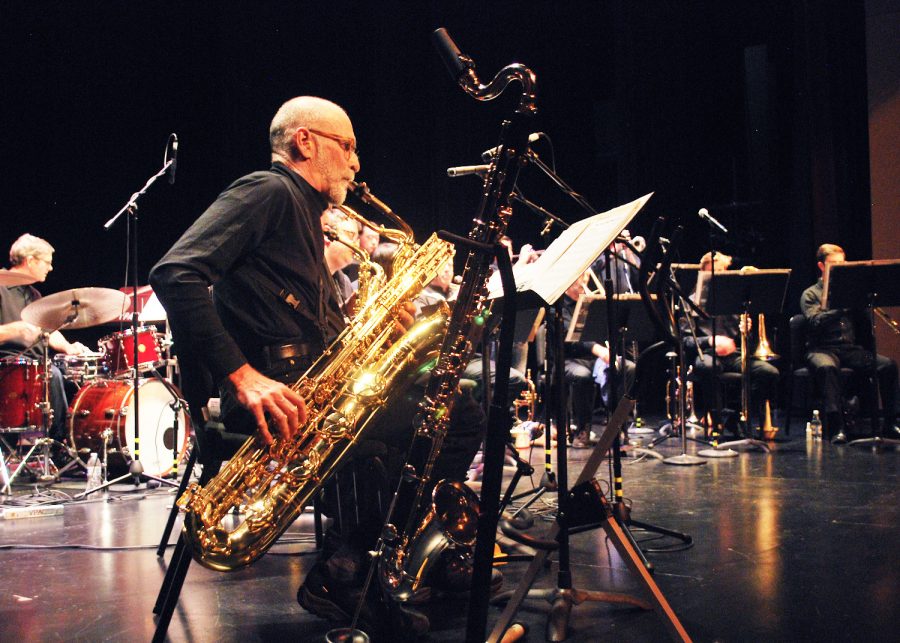 DA Jazz Ensemble provides versatile, intimate performance

3

min read
The De Anza College Jazz Ensemble gave a lively and intimate performance to a small crowd at the Visual and Performing Arts Center on March 23 for their big band funk-themed concert.
"I think the theme will get across to the audience that the jazz ensemble is not just a traditional, stuck in a certain era kind of a group. It is very flexible and versatile," said band director John Russell.
Among the songs played were a cover of Michael Jackson's "Human Nature," the classic song "Sway," by P.B. Ruiz, sang in both Spanish and English by baritone sax player Janelle Herrera and a cover of Billie Holiday's "God Bless the Child," sang by trombone player Orlando McCorkle.  
"It was great. It just sounded clean, very sharp, very good," said audience member and jazz fan Carmen Velasco, who was there watching her son play the trumpet.
"So far I really enjoyed 'Sway,'" said audience member Christian Sanchez, 22, film production major. "It's my first time attending a De Anza jazz related performance. I do like Latin jazz, but I'm mostly here because of a class requirement."
Another song played was "Cold Duck Time," which featured a tenor sax solo, bongos  and a drum solo by Nick Fabiano, 21, music major.
"It's really interesting to play and to listen to because you have to actively listen while you're listening to jazz or else you won't pick up certain things," Fabiano said. "Really it exposes people to something they may never listen to otherwise because its not mainstream and a whole other kind of music."
"Now that I'm starting to learn about how to read and I'm learning the music, playing this kind of music, it's great music," said drummer Carlos Velasco, 58, retired teacher and music student. "To study and learn music is as hard as any other class I've had, but to me, I've gotten more joy out of this then I had with chemistry and physics."
The second half of the show featured a guest performance by Daddios Big Band, also directed by Russell, and included the song "Statements and Reflections," which starts out slow, then goes to double time and ends slow again. It featured trumpet solos by Al Gonzales and Kevin Kono and had a Pink Panther, James Bond-type vibe.
They also played an upbeat, jazzy version of the Beatles' song "Blackbird," featuring a trumpet solo by Gonzales and ended the concert with a Stevie Wonder cover of "Higher Ground," featuring a sax solo by Jon Familant.
"The music is indigenous to this country. You know, it's our art form. It started here and it's obviously taken over the world as far as music that is widely accepted and enjoyed," Russell said. "It is something that I think every student should at least get a chance to hear live, because it really is an art form that should be listened to and viewed live."