Diversity in TV doing well: Films still engulfed in whiteness
October 9, 2016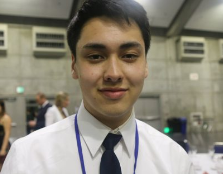 Less than a month after the self-congratulatory Emmy Awards, certain media outlets began to criticize Tim Burton's latest film, "Miss Peregrine's Home for Peculiar Children."
Within the confinements of a vacuum, critics ranging from the most exalted of institutional scholars to the most active of Tumblr socialites would likely have gone about their day without complaint. But no such contextual vacuum exists. This film is criticized because Burton's long-standing list of 36 films have almost entirely been centered around white leads.
Hollywood's notoriety as the epicenter for the revolution of film has always been plagued by white dominance. The slim minority of people of color rarely land a lead role or prominent speaking role, and often find themselves pigeon-holed into stereotypes because of the ultimate goal of having a niche minority character. Surprisingly, while the face of film continues to be defined by slow, incremental change regarding its overrepresentation of white, heterosexual males, its episodic-series counterpart — manifesting in the form of Netflix, Amazon Prime TV, Hulu and cable television — has made statistically significant strides in bridging the representation divide.
According to an extensive eight-year-long research study conducted by USC Annenberg School for Communication and Journalism "there has been no meaningful change in the percentage of girls and women [in film] between 2007 and 2015," citing an 11-to-5 speaking-role ratio of males to females. Of those who find themselves in the minority, there is a noticeable correlation between sexual appeal and female roles. Women are three times more likely than men to display partial nudity as a result of the strong desire for sexually appealing characteristics. Women over 45 have only a fifth of the representation of their male counterparts.
Whispers of the #oscarssowhite controversy seem all but inevitable with the realization that there has been virtually no statistical difference in the number of minorities cast in film since 2008, with only 14 of the 100 top films depicting a non-white lead or co-lead.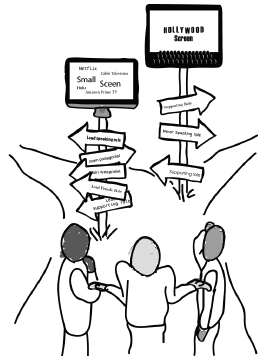 Asians remain nearly invisible on the big screen, netting zero lead or co-lead roles among the top 100 films. Meanwhile, there's a new aphorism in town, and it's surprisingly accurate with regard to depicting an issue as complex as diversity in television and film. It goes like this: The smaller the screen, the greater the diversity. Krysten Ritter, the strong female lead in Marvel's "Jessica Jones" and Mike Colter, who plays Marvel's "Luke Cage," a complex black lead in an indefinite stream of white, male superheroes, have essentially become staples for Netflix entertainment and icons for the various mini-series set in Hell's Kitchen, New York.
From the exuberant diversity of "Modern Family", which features a gay, male couple, a retake on binary gender roles, and an adopted Vietnamese child; to more subtle displays such as Kevin Spacey's award-winning portrayal of bisexual, ruthless Frank Underwood in "House of Cards," to "Orange is the New Black's" strong female leads and co-leads of all races, backgrounds, genders and sexualities, episodic entertainment certainly is reaching to make a statement.
The disparity between TV and film is more than likely a result of the market as a whole. The monetary barriers to jump-starting an episodic show tends to be far less risky than a film. Films with female or minority lead and co-leads tend to be a gamble for the mainstream market, often compelling directors and writers to cast white men at disproportionate rates. In conjunction with the financial concerns of millionaires, it has been well-documented that African-Americans consume the most television across all demographic groups, and that minorities in general constitute a significant portion of the cable television subscription base.
Streaming services, which tend to boast racial, LGBT and female normalization rates superior to both cable and film, also provide an effective, lower-risk means of establishing a brand, while also appealing to a typically younger demographic. While the rate of cable subscriptions continues to erode, especially among younger groups, the advent of streaming services also serves as a revitalization for episodic-based pop-culture, thus introducing new ideas, new stars, and more diversity.
False dichotomies are never fun to pass off as fact, and, as such, it is essential to face the harsh reality that while television has taken the avant garde precedent of making serious attempts to cast female and nonwhite speaking roles, remnants of more deeper institutional oppression make an impact on representation regardless.
The mission to close the divide is best described by writer and producer of "Grey's Anatomy" Shonda Rhimes: "[It's] not diversifying television. [It's] 'normalizing it.' There's a difference."