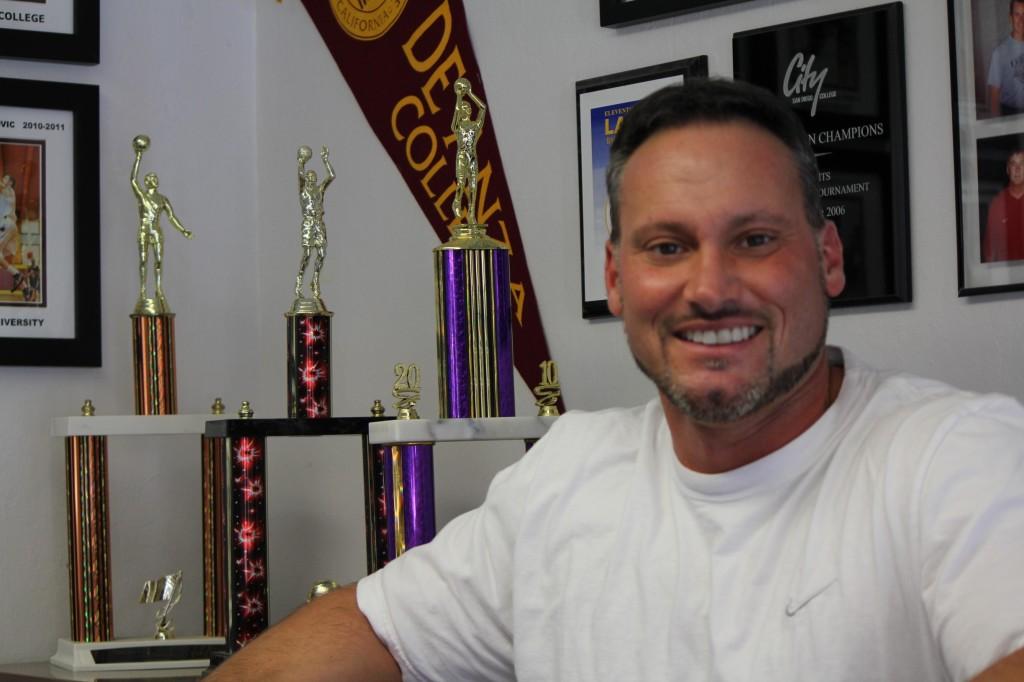 Rajvir Kaur, La Voz Weekly
Q: How long have you been a coach at De Anza?
I have been a coach at De Anza college for seven years, this year is going into my eighth year.
Q: Describe yourself as a coach?
That's a good question. I would say tough but fair and also I think that it's important that even though I'm a coach, I think the bottom line is that all of the coaches, as well as myself, are teachers first. That is kind of why when someone asks me what I do, I tell them I'm a teacher, I don't really preface it by saying I'm a coach, just kind of goes with the territory.
Q: Between the guy at home and the Coach here, are there any similarities in how you play the two roles?
Wow, you know what? They are probably two, completely different personas. I have had students come to games, and even my classes are a little bit different. But at home, no, I am very laid back at home and I'm very intense when I teach and coach. There is a big difference.
Q: In your opinion, what makes a great basketball player, outside of skills and talent? Academically?
First and foremost, they have got to be coachable. They have to want to get better. Sometimes you get a student athlete who has a lot of potential but never reaches that potential based on something just inside of them. You need to be coachable and you need to be a team player, and you need to be willing, and accepting of the role you are asked to preform by your coach or teacher. Academically, over the last few years, that has really become a problem, the percentages are not good. The guys need some type of background, in getting their AA degree here, or enough transferable units to the four year college they want, they aspire to get into is extremely important. I just hope that basketball for my players, that that will some kind of doors for them. But if you are not a good student, number one you lose the privilege to participate and play, so it is right up at the top.
Q: Do you any of that in this year's basketball team?
I really like the group that I have. We had a tremendous summer, we won 5 out of 6 games in the summer. Very coachable group, very nice group, priorities are in order, and for the most part they are a very high academic-performing group, which again I put a lot of emphasis on. I think our ceiling is very high, we can really grow a lot this year. Its fun to coach a group that wants to get better, that is accepting of your coaching, your constructive criticism, all of that.
Q: What are your thoughts on the upcoming season?
I kind of go into the season with the same expectations and goals. The first goal is that we are going to win the first tournament that we are playing in. Come conference, I think we have a good as chance as anyone, we were right there last year, I don't see why it would be different this year. Why we haven't been able to? We play in a really difficult conference, it's one of the highest winning percentage conferences in the state of California. The coast conference is a legitimate basketball conference, there are a lot of good teams, the competition, it's a tough conference. The other thing is there are so many community colleges in this area, and the talent of the high schools; we're all recruiting the same kids. But we have been consistent over the last couple of years, I'm happy with our progress.
Q: What words do you give as encouragement?
Every team, whether they're in first place, the middle, or last, there are ebbs and flows throughout a season. Very rarely you have teams that go undefeated, that win every single game. I think it's really important to maintain your belief in what you're doing. It's easy when something is not working, or you are having a bad game, or a couple bad games, to jump off the ship and say "okay we got to do different things now." I believe in what I do, I believe in what I teach, I believe in what I preach. We have bad games; players have bad games, coaches have bad games. We need to stick to the plan, have confidence in what you (should it be "we"?) do, and just maintain and fight through it. Keep your eye on the prize and maintain your focus.