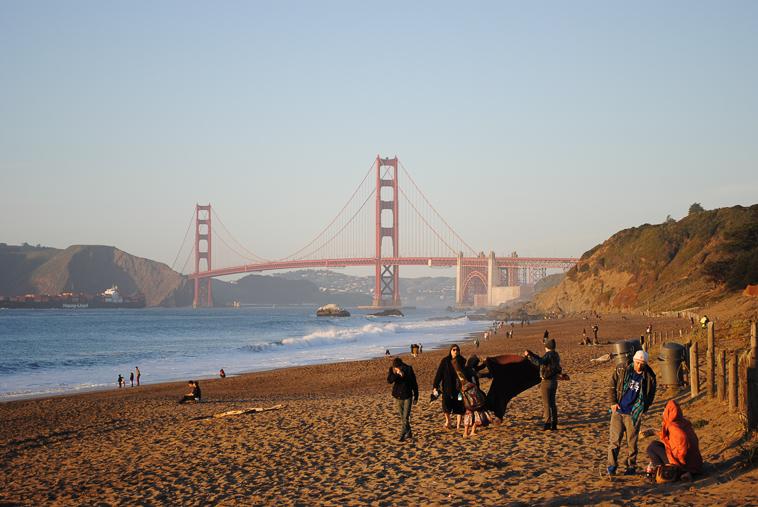 PATRICIA NGUYEN
SAN FRANCISCO'S BEACH
Picnickers prepare their spot and settle down to enjoy the sunset at Baker Beach with a view of the Golden Gate Bridge in the background, Sunday, June 2.
With summer right around the corner, the urge to dig your toes in the sand,  feel the ocean breeze on your face and the icy cold water splash on your legs becomes stronger each day.
And while some of us cannot afford to travel to beaches in exotic places like Cancun and Australia, there is no need to fret.
Three of the best beaches in Northern California are right around the corner, only at most, an hour and a half drive away.
So pack your sunscreen, towel, swim suit, and snacks and get ready to soak in the sun and relax at some of the most beautiful beaches on the North Coast.
1. Carmel Beach
Scenic Road, Carmel
Parking: Free
Good for: divers, kayakers, bird watching, dog walking
Just 81 miles away from San Jose, lies Carmel Beach, a beach of white sand and warm sun.
It's a great place for any picnic or just hanging out with your family or best friends while enjoying the beautiful views.
Right above the beach is a little downtown historic area full of restaurants, shopping and clothing stores.
And when it gets dark, feel free to light a bonfire and roast some marshmallows.
2. Natural Bridges State Beach
2531 W. Cliff Drive Santa Cruz
Parking: $10 or free along side streets
Good for:  Tide pools, monarch butterfly reserve, wind surfing
A slice of heaven in the Bay Area, Natural Bridges State Beach is quite a beauty.
With an arch planted right in the surf, this beach isn't just great for picnics, but it's fantastic for photo shoots as well.
There are free activities for all ages.
If you go between October and early March, monarch butterflies begin to hatch and literally hundreds of butterflies fly around the grove.
Natural Bridges has tide pools where kids and adults can learn about sea life.
It's best to visit when the tide's low.
3. Baker Beach
Gibson Road, San Francisco
Parking: Free
Good for: Golden Gate Bridge, nude beach, picnics, hiking
Who says California doesn't have it all?
Perfect weather and oh yeah, views of the Golden Gate Bridge an international icon.
Picnic tables and facilities are located in the middle of the beach in a forest type area.
But be warned! If you go too far to get to the bridge and try to head up the stairs for a quicker way back to the parking lot, you might see a little skin.
Fun fact about this beach is  it's half a public beach and half nude beach.
Make sure you stay to the side you desire.
Other than that, enjoy yourself and take in the breathtaking views.