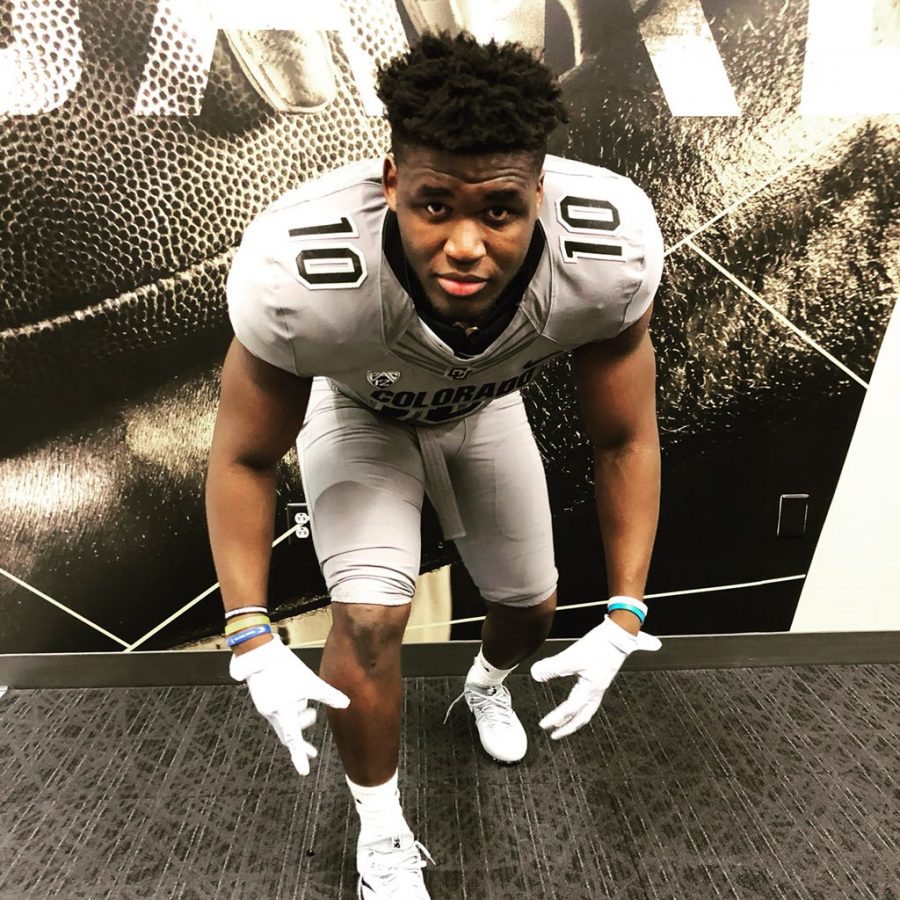 Two years.
Less than that, actually. That's how long Alex Tchangam has been playing football.
In that time, he went from joining De Anza's football team in the middle of the 2016 season to being named first-team all-state in 2017. He narrowly missed becoming an All-American.
The versatile 6-foot-3, 260-pound weak-side defensive end finished the 2018 recruiting cycle as a 3-star prospect according to the 247Sports Composite, the most trusted recruiting ranking system in the business. He has now earned a full-ride scholarship to the University of Colorado-Boulder and will suit up for their football team in 2018. Colorado head coach Mike MacIntyre has praised his talents lavishly.
Anything else left to accomplish?
"I'm trying to make it to the NFL—I will actually make it to the NFL," Tchangam said.
No big deal, right?
To understand where Tchangam gets that kind of confidence, you have to understand the rest of his story. Before all of the accolades and attention.
—
It starts in Douala, Cameroon, where Tchangam was born and spent his early childhood. Prior to middle school, his family made the decision to immigrate to the United States. In his words, his family just wanted "better opportunities, living-wise. And to have a chance to live the dream."
The Tchangam family settled in Johns Creek, Georgia, about an hour northeast of Atlanta. When it came time for Alex to attend Chattahoochee High School, his dreams of playing football had already materialized. But before he could live out his dreams on the field, he would have to sort some other things out.
"I've always wanted to play football in high school, but I had grade issues, so I couldn't play," Tchangam said. "So then I decided to take the JUCO (junior college) route, and then that's when I started playing here."
Before he could play at a junior college, though, someone had to discover him. He got his chance when De Anza head coach Tony Santos got a tip from a friend of his in Georgia, who was at a basketball tournament when he spotted Tchangam, whose natural size and strength stood out to him.
"He was at a basketball tournament in Georgia, and I have a friend whose son's team was playing there," Santos said. "And he was playing basketball. And my friend said, 'Hey, what position do you play?' He (Tchangam) says, 'I've never played football.' (Then Santos' friend said), 'Oh, you need to call my friend (Santos).' And then he called me, and then that's how the recruiting process started."
Tchangam arrived on campus at De Anza in fall 2016 and immediately joined the football team. With no prior experience in the sport, his coaches initially struggled to determine which position he would play.
First, they tried wide receiver, but they quickly found out that learning the intricacies of the route tree on the fly was a significant challenge for someone who had never played football.
"We didn't really know what to do with him, so we thought receiver would be the easiest transition," Santos said. "Throw the ball, be an athlete, run and get it. What we found out was that the learning of trying to understand the offense and trying to understand the complexities of the defense in reading and modifying routes and changing things up, he never acquired any of those skills."
Next, they tried defense. That worked out a little better, as Tchangam was able to use his athletic talents right away, without having to worry too much about getting bogged down with the playbook.
"We figured, get the guy with the ball," Santos said. "That seemed to be a little easier. When we put him in, first game against College of San Mateo, which was the league champions, he had three sacks. And then I said, 'Hey, I think we're on to something here.'"
Tchangam admitted adjusting to football was difficult at first, but he knew he wanted to stick with it. His passion for the game kept him going.
"At first, it was kind of different, but I knew that's what I wanted to play, and then I just got adjusted to it pretty quickly," Tchangam said.
Despite Tchangam's impressive debut in 2016, his evolution into an elite JUCO player really began after the 2016 season. During his first full offseason of his fledgling football career, Tchangam would finally have the time to put in the work needed to learn the craft of pass rushing and master his technique.
"He really worked hard in the offseason, and has been a student of the game," Santos said. "And for those reasons, coming into this year, which was his first spring practice, first summer, first fall camp, I started to see him blossom as barely understanding in the infancy of football, but understanding that genetically, he was gifted," Santos said.
That work led to a season in which he registered 69 total tackles (23 for loss) and 12 sacks, as well as a forced fumble and a fumble recovery. He was named first team all-Bay 6 Conference.
Despite the hard work that Tchangam put in and all the accolades he garnered for his performance in 2017, four-year universities were slow to recognize his accomplishments. He did not receive a single scholarship offer from a four-year until January. But once he received one, he received another. And another.
The major recruiting services also began to scout him, leading to him becoming ranked among the top JUCO players in the country.
When the dust settled, Tchangam had received six scholarship offers, all from NCAA Division I schools: Portland State, New Mexico State, Louisiana-Layafette, Kansas, Florida Atlantic, and Colorado. But one of them stood out.
"I just felt like Colorado was the right fit for me," Tchangam said.
He cited having family in the area and proximity to Denver Broncos All-Pro linebacker Von Miller, Tchangam's favorite football player, as two of his reasons for selecting the school.
Colorado was one of two Power 5 schools Tchangam received an offer from. The other, Kansas, has been a perennial doormat in the Big 12 Conference. The Buffaloes, meanwhile, slogged through their 2017 season en route to a disappointing 5-7 record and last-place finish in the Pac-12 Conference's Southern Division. But in 2016, they won the Pac-12 South with a resurgent 10-2 campaign, earning a berth in the Pac-12 Championship and later, the Alamo Bowl. MacIntyre won multiple national college football coach of the year awards as a result.
Tchangam's natural abilities had MacIntyre raving about the contributions he could make to the Buffaloes in the fall. In fact, Tchangam was the first incoming Class of 2018 recruit MacIntyre discussed in his remarks to the media on national signing day.
"We found a young man that we think has special talent in Alex Tchangam," MacIntyre said. "He's very fast and athletic, and I've been able to have a lot of success with the Nigerian, Cameroon(ian) young men. All of them have played well for us here at CU, and all of them had opportunities in the pros for a while. So I think he's another one in that line, and hopefully he'll be able to do that."
Santos, too, thinks Tchangam's exceptional athletic ability will enable him to grow at Colorado in pursuit of his NFL dream. Santos, who has coached 12 NFL players, is high on Tchangam's potential at the next level.
"He has God-given abilities you and I will never see," Santos said. "Being 6-foot-3, 260 pounds, a 420-pound bench presser, a 38-inch vertical, and a 4.5 [seconds] in the 40[-yard dash]. And those last three numbers I gave you would put him in the top three at the NFL Combine."
Tchangam, as indicated by his bold statement above, is also bullish on his potential to reach the next level, citing a conversation he had in Georgia with former NFL linebacker James Williams about what it takes to reach the league.
"I knew a linebacker that used to play for the 49ers," Tchangam said. "And he just told me, like, 'If you want to make it, it's not as hard as people think, but you just have to work hard. Like, literally, you have to work until you can't even work (any) more.'"
He added that he knows how hard he will have to work, and that his coaches at De Anza have helped him stay motivated to put in the work necessary to achieve his goals.
"I know the kind of work that it requires for you to be that kind of player and to get to the NFL," Tchangam said. "And the coaches motivate me, and the coaches have inspired me to work every day."
"I couldn't be more thrilled for him," Santos said. "He is an excellent young man, he works hard in the classroom, he has a 3.1 GPA … Everybody loves to hear these kind of immigrant success stories, coming to America for a better life and then actually capitalizing on it."
Tchangam traveled to Boulder to attend Colorado's spring game on March 17, and enjoyed his time with his future teammates, and well as the gameday atmosphere.
"Being in Colorado for the spring game was outstanding," Tchangam said. "Being able to see Ralphie (the Buffaloes' mascot) run was great, and the atmosphere was spectacular. And most importantly, being able to watch the players and coaches work hard out there was awesome. I can't wait to go out there and give them my all and be the best player I can be."
He will take the next step toward his NFL dream—or, if you prefer, destiny—July 1, when he will report to Colorado in advance of the football team's fall camp to prepare for the 2018 season.