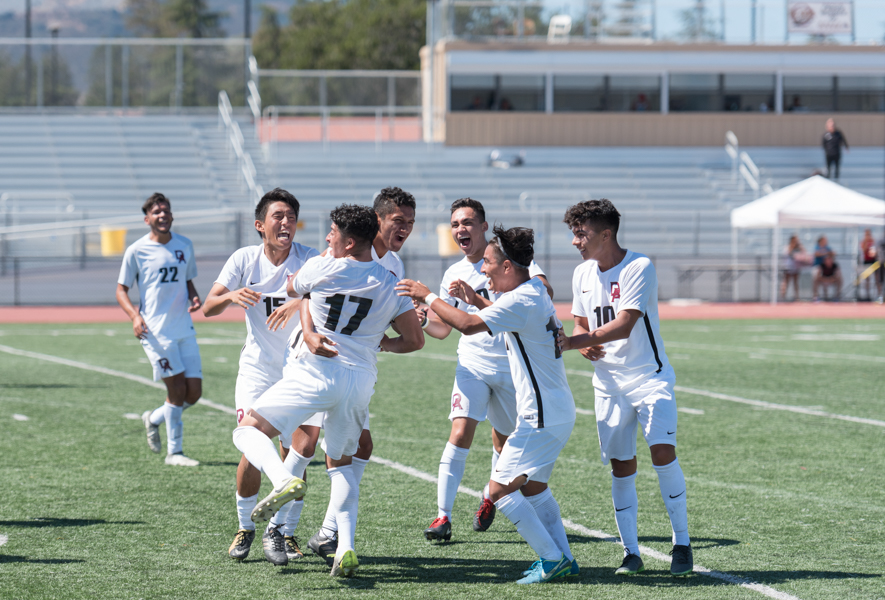 Matthew Fernandez
De Anza College's men's soccer team managed to score a last-minute goal with a stylish bicycle kick to defeat Lassen 3-2 in a very close game on Sept. 19.
When asked about how confident he was about today's game, player coach Alexis Estrella, business communication major, said, "We expect to win every game."
Throughout the game, the momentum was back and forth as both teams exchanged goals at one another, but De Anza always maintained the initiative by never allowing the opposing team to score ahead of them.
Rusty Johnson, head coach for the men's soccer team, said, "Lassen hasn't given away many goals and so it was kind of a surprise that it was as high scoring an affair as it was."
Around the middle of the second half, Lassen scored a goal that set the score to 2-2, which placed both teams in a brawl to get a third and final winning point.
Frustrated with how the De Anza players were playing, a spectator who was supporting De Anza yelled, "Stop dribbling! Pass the ball!"
Within the last few minutes of the game, De Anza had the opportunity at a corner kick, and Arturo Meza took full advantage of it by scoring with a bicycle kick to close the game out.
After this third goal from De Anza, Lassen aggressively went for one final counterattack and got dangerously close to De Anza's goal, but the Don's defense held strong and secured them the victory.
When asked who he thought was the MVP for the day, Johnson said, "With a goal like that, you gotta give it to Arturo Meza. You know, but overall, I thought the team did a lot of the simple things pretty poorly today," he said. "We did an awful job of managing the game today. We did a lot of silly things that we try and
teach our guys to take care of. I'd say the little things that help you in games, we failed at today and so we kind of gave them an opportunity to be in the game and I don't think we played well today at all."
To better prepare for future games this season, Johnson said, "We need to focus on how we attack in the final third and how we get behind teams. You know I think our build up is fine, but when we get up to the forward third, we struggle. So we need to work on moving the ball up a bit."
Johnson nominated Meza as MVP of the game.