From student to captain; Jane Kim does it all

2

min read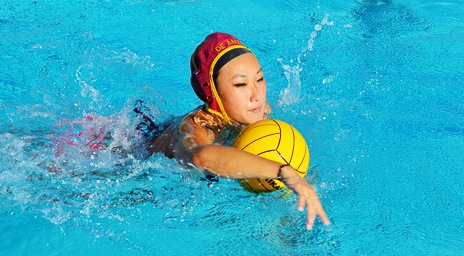 Jane Kim, a 20-year-old, 5'7 and 140 pound water machine is De Anza College's women's water polo captain. Tough in the pool and with the books, the working student athlete does not have time to waste.
Aside from providing leadership to her team, she helps guide others outside of De Anza. Kim is constantly in the water and if she is not in the pool for school, she is at work as a swim instructor.
"After practice, I teach kids how to swim. It can be draining and on my days off, I compete for school," said Kim. "My weekends consist of tournaments or games."
This Georgia native first started as a swimmer but did not participate in water polo until her senior year at Homestead High School. She first moved to California her junior year and over time was convinced by her coaches to try out for the aggressive sport.
"We did not have water polo in Atlanta and I had no idea it existed," Kim said.
Her experience as a long time swimmer paid off because her position is the team's sprinter which is the fastest swimmer.
"I like being captain," Kim said. "In a team, there needs to be someone organizing and someone to provide encouragement."
She sees her teammates as her sisters and they look out for each other.
"We keep each other accountable and I like how when we make mistakes, instead of dwelling on them, we learn from them," said Kim.
Kim intends to stay in the pool, even after transferring from De Anza. Her future goal is to continue playing and swimming at a four-year college and possibly go to graduate school while pursuing a major in nursing.
So far, the busy life works to her advantage and keeps her on top of things.
"Water polo is definitely a sport that helps keep me sane," she said. "Under all this pressure, I am able to release it."