Sports – End of Baseball Season

2

min read
The De Anza College Dons' 2013 baseball season ended in April, but head coach Scott Hertler said he is pleased with his team's performance and is already planning for next season.
Hertler said the team got off to a good start and he felt good heading into next season.
Although the confidence was high for Hertler and his team, he said there is always the uncertainty of new players' impacts on the team.
"It is kind of too early to tell what new players can bring to the team," Hertler said.
"However, the current team roster for this year had worked very well together and made for a good year. The greatest strength on our team was our chemistry," he said.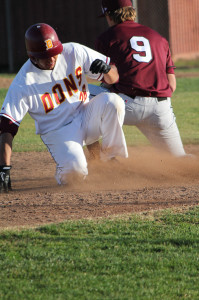 The stats for De Anza's baseball team this season don't lie. The team chemistry played a vital role in the success achieved this year.
The team's batting average was .265, placing in fifth, but their overall winning record for the year was 16-19 (.457).
But, according to Hertler, there are always improvements that the team can make.
"We need to improve in the bullpen," he said."It was a luxury not having to go to the bullpen this season."
As the season came to an end, De Anza's team finished strong and Hertler looks forward to another exciting and challenging season.
"We narrowed the gap in competition by winning and losing with better odds," he said "We were competitive in losing and winning games."
Hertler said that while it is important for the team to work together, some players had improved during the season, affecting the success of
the team.
The most improved players were the pitchers.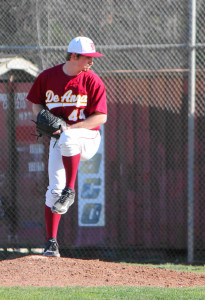 Hertler named freshmen Lucas Yovanovich and Jack Rader and sophomore Derek Carter among the players that most improved.
As graduating sophomores transfer in the fall, there will be numerous spots for incoming freshmen.
Changes for next season will be figured out when the team is re-organized and the positions are filled with new prospective players.
Hertler said the team's defense must play solid next season.
"We can't tell what the team we will have until fall," he said.
"But I look forward to working with a set of new players."