As one De Anza track star graduates from Iowa college, another is recruited

2

min read
Dominique Guinnane, also known as "Dom" by head coach of De Anza College's track and field team Nick Mattis and teammates, has obtained success not only on the field, but in
her academics as well.
She has faced many challenges to get to where she is today and surmounted these obstacles to become captain for both the cross country and
track teams.
Guinnane began running in sixth grade to relieve stress.
Running gave her the strength and determination to continue for eight more years.
Comparing herself to when she first began, she said she thinks she improved her speed and endurance, which are imporant for distance running.
Because of her success on these teams and with Mattis's help, she obtained a scholarship to St. Ambrose University in Iowa, where a former De Anza track alumna, Karina Thompson, graduated  on
May 11.
Thompson graduated with a degree in human performance and fitness and said she hopes to become a licensed vocational nurse as soon as possible.
Both athletes received the same track and field scholarship and are working with St. Ambrose's track and field head coach,
Dan Tomlin.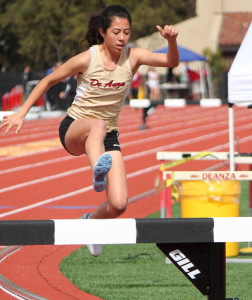 Thompson was an addition to the St. Ambrose track and field team in 2011 and brought her positive attitude from De Anza to St. Ambrose.
According to Mattis, she played an important role at
De Anza.
"She was a leader to the younger girls and she did a tremendous job of keeping them in line," he said.
Thompson dealt with injuries that have harmed her performance in previous seasons and continues to play a role in the current one.
Though she has faced hardships, she has prevailed in becoming a member of conference for the 4×100 relay.
Thompson carries a strong passion for WNBA and started her internship at the Los Angeles Sparks in May as a strength and conditioning specialist.
Tomlin, the St. Ambrose coach  said he hopes she becomes an addition to the franchise or
the organization.
As for Guinnane, she said she hopes to be successful working with Tomlin, as well as graduating St. Ambrose with a nursing degree and pursuing a career in the medical field.
With a successful career at De Anza, Guinnane will transfer to St. Ambrose this fall with hopes of a bright future as a new addition to the team.
Mattis said he hopes Guinnane  will become a national qualifier at her new school and continues to grow as an athlete and finish
her degree.