Activist Angela Davis motivates

2

min read
Hundreds of people crowded De Anza College's Visual Performing Arts Center on April 16 as they awaited the appearance of activist, scholar and author Angela Davis.
Davis gave a speech focusing on specific current events having to do with racial profiling, police brutality and inequality throughout the world.
"Did we imagine, within such a relatively short period of time, new movements would emerge? Protest would happen? Daily demonstrations would occur? Solidarity would be coming forth from countries all over the world?" Davis asked the audience.
In her speech, Davis also spoke about the growing problem of mass incarceration in the U.S. She spoke about institutionalized racism and its correlation with prisons, which she addresses in more detail in her book "Are Prisons Obsolete?"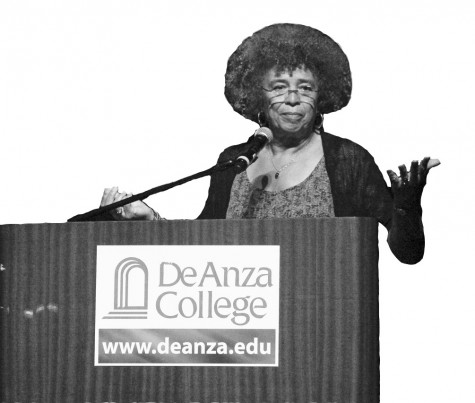 Davis captured the audience's attention with her resounding voice and funny anecdotes.
"I always like to make a point," Davis said. "We have to demand what we want. Not what we think we can get right now."
The event ended with a time-constrained Q&A session between audience members
and Davis.
Students had the opportunity to interact with Davis in a more conversational manner and Davis was treated to a standing ovation from the audience as the event came to an end.
Davis ended her speech by acknowledging the importance of community.
"There are always ways to stand up," Davis said. "But, it can never happen individually. There is nothing wrong with individuality, but there is something wrong with individualism. You always need to build community wherever you are."
The VPAC exceeded its capacity, with people sitting in aisles and on steps.
The Institute of Community and Civic Engagement at De Anza sponsored the event, titled "Racial Justice and Resistance in the United States: a conversation with Angela Davis."
The San Jose Peace and Justice Center also presented the Gertrude Welch Peace and Justice Award to Fred Hirsch for his work in the community. "I am just totally overwhelmed," Hirsch said in response to recieving the award.
Myah Rodriguez, 21, political science major, also spoke to the audience, sharing a student perspective of social activism on De Anza's campus.
Rodriguez acknowledged organizations at De Anza College, including the Black Leadership Collective and Latina/o Empowerment at De Anza.
"I know soon I will be leaving this campus, but I will be leaving having had the opportunity to discover myself, my talents and my inherent work," Rodriguez said. "So for that I am forever grateful to De Anza College."