Students play extras in Jobs biopic

1

min read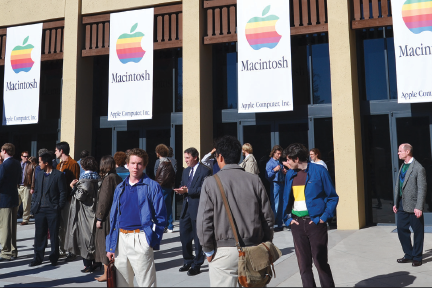 Bojana Cvijic, Staff Writer
February 6, 2015|96 Views
De Anza was transported back to the '80s on Jan. 31 when hundreds of De Anza students appeared in their best '80s attire to the Flint Center which was adorned with vintage Macintosh banners because the first Macintosh computer was unveiled at the auditorium in 1984.
Most students who showed up said it was their first time doing anything like this and they were incredibly excited to be a part of a movie that includes such a big part of De Anza's history.
Filming for the new Steve Jobs biopic film, directed by Danny Boyle and written by Aaron Sorkin, began at De Anza on Jan. 26. The film stars Michael Fassbender as Jobs, Seth Rogen as Steve Wozniak (also a De Anza Alumni), and Kate Winslet as Joanna Hoffman, Macintosh's former marketing chief.
Five students from the Film/TV department got to work a paid day each on set to gain experience in the film industry.
Filming ends on Feb. 14 and the yet-to-be-titled biopic will open in theaters Oct. 9.