Feature. Cool Hangout: Chromatic Coffee

2

min read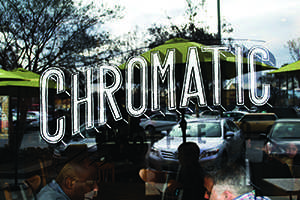 Chromatic Coffee located at 5237 Stevens Creek Blvd, Santa Clara, CA 95051 is a local coffee shop that serves a variation of different coffees, teas, and specialty drinks. Chromatic Coffee is a relaxed place with a vintage look and rustic like furniture. It has available space for students to gather socially, or to study and do homework.
All of the coffees and teas that Chromatic uses and receives are from local distributors in the San Jose area. The quality of the drinks are flavorful and the presentation of the drinks are a bonus as well (i.e. latte art, and iced drinks are served in mason jars if you dine-in). Chromatic was recently in the news for one of the drinks that they serve, the "flat white". The flat white is now a new drink that Starbucks now serves and is currently promoting. Chromatic Coffee claims to have originated the drink.
The staff is very friendly, approachable and informative about the menu and any questions or concerns regarding the shop. The layout of the bar is open, so customers are able to speak to the baristas making the drinks and watch how the baristas make the drinks if you stand on the side of the bar.
Chromatic Coffee has art displayed along the walls throughout the shop. They rotate the art that is displayed every month. Chromatic accepts art from local galleries, artist, and people who are willing to have their work shown. If interested in having your art possibly being displayed, contact store for more information.
Chromatic does tend to get loud and crowded during the lunch hour, with a variety of people that range in different age groups. If you are looking for a quiet place to study with little distraction, you might want to avoid this place during lunch. Chromatic gets busy and you may have a difficult time looking for an available table.
Overall, depending on your personal taste, you can find some beverage of your interest and of good quality. Good place to gather and socialize. Chromatic gets loud and busy, so if you need to study in a quiet space with little distraction, Chromatic is not the best fit. If you mention and show your De Anza College student identification card at the time of your purchase, you can receive 10% off of your purchase.