New ESL club holds first meeting

1

min read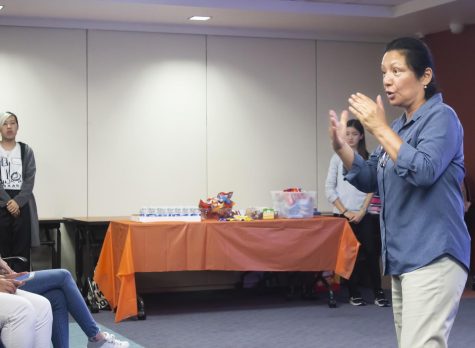 De Anza students and instructors packed the student council chambers A, waiting to hear about the first ESL club meeting on Oct. 26. Club officers and advisor were pleased to see the outcome.
"We would like to continue this club as long, as long as possible," said Angelica Matyssik, 19, nursing major.
According to Maria Marin, ESL instructor, the club was created to show ESL students resources and help available for them on campus. "A lot of the times, ESL students, whose first language is not english, are very hesitant to ask any questions," said Marin.
"This is an opportunity for them to meet with other students outside of ESL class."
Students seemed to take advantage of this club's opportunity, as they asked many questions, and were focused during the prestantations. Even after the presentations were done, many students stayed to ask further questions, or to just hang out.
"It is a new place for ESL students to get together, and practice their speaking and listening" said ESL student Anu Sherma, 32, undecided.
"I can meet a lot of friends who come from different countries, and learn from different cultures."
The ESL club's second meeting will take place on Nov. 15 and Dec. 6 in student council chambers A