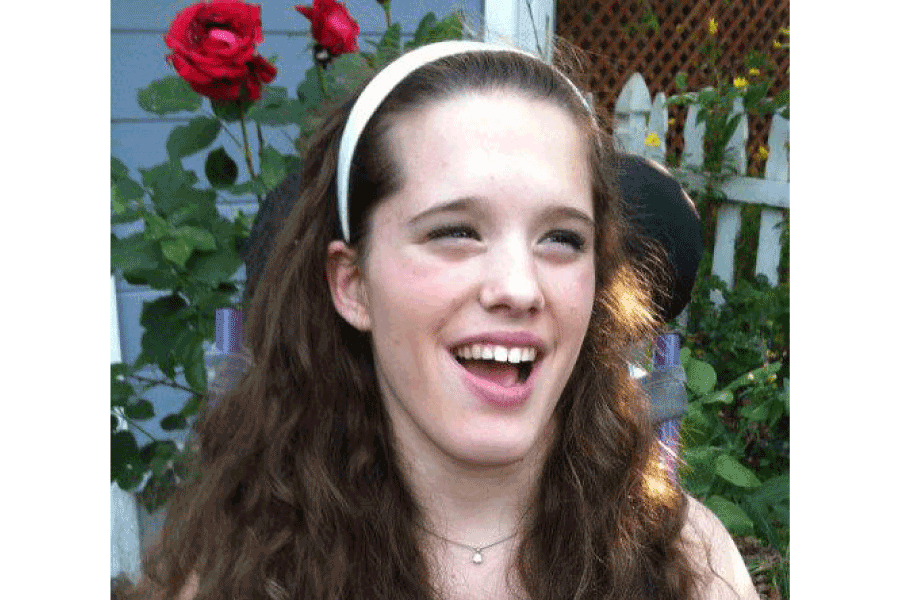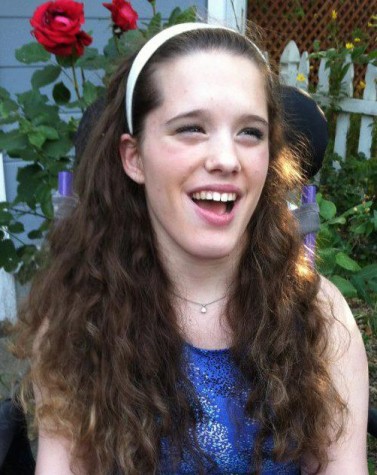 Imagine a ping-pong ball. It skips from one side to the other, and you can't quite focus on it, can't freeze it in the air. All the visual details around the ball become a blurry kaleidoscope of everything and nothing in particular. This is how Kelsey Marie O'Maley's eyes see.
O'Maley, 21, Spanish major, is a high-achieving student with cerebral palsy and cortical vision impairment. She came to De Anza College with 3.94 high school GPA and big hopes, but Disability Support Services refused to fully accommodate her. In November 2015, after a struggle to appeal the DSS's decision, O'Maley left De Anza
Kelsey's frustration
Disabled students have access to specialized software and devices at De Anza. For those with difficulty using their hands, there is a mouse they can click with their breath and move with a nod. Visually impaired students can dictate instead of typing and listen to audio books instead of reading them. Academic counseling, tutoring and mobility assistance are just a few things from a long list of services available to students with disabilities at De Anza.
But O'Maley said what she needed was each assignment prepared for her according to a system she has used since third grade. The program, among other things, involves translating assignments into a format readable for Kelsey, with a certain amount of enlarged text on each page. Kelsey also learns math using colors and shapes.
"She is not asking for something that is new, or that she feels she wants," said Kelsey O'Maley's mother, Kimberlee O'Maley, a lawyer. "It's a proven accommodation, and without it, she cannot participate equally as non-disabled students because it leaves a huge chunk of academics inaccessible to her."
The recognized system Kelsey uses was developed by California School for the Blind and by a number of specialists that her school district hired, her mother said.
De Anza's DSS program whose role is to makes sure students with disabilities fully participate in classes, decided not to follow Kelsey's request fully, Kimberlee said.
"When we asked for it, they said, 'We've never done it for any student, so we are not going to do it now,'" Kimberlee said.
Stacey Shears, Dean of Disability Support Programs and Services, refused to comment on Kelsey's experience with DSS. She said that it would violate The Family Educational Rights and Privacy Act, even after being presented with FERPA waiver.
Kimberlee said that when DSS agreed to accommodate only some parts of the curriculum, it wasn't a fair decision.
"How would you feel?" she asked. "That you would only get 20 percent of the information and you are still graded on a hundred percent?"
For equal access to education, colleges should meet the needs of students with disabilities to the same extent as the needs of students without disabilities, according to Section 504 of The U.S. Rehabilitation Act. DSS is the program that oversees the implementation of this law.
Some of Kelsey's instructors noticed the problem she was having with accommodation.
"They had trouble with logistics – of getting the practical aspect modifying assignments," said Kelsey's humanities professor, Lori Clinchard.
Shears said that even though colleges do not adjust the class curriculum for the needs of students with disabilities, they allow student to choose the way of learning.
"In higher ed, we cannot change the goal of the class; we only modify how the student participates," Shears said.
Kimberlee said that after DSS agreed to only partially meet Kelsey's request, she stayed up all night transcribing the assignments herself to give her daughter a shot in each class. Kelsey, in turn, studied eight hours every day and 14 hours on weekend days to maintain academic success, her mother said.
"She studied for many, many hours, going way beyond what I'd imagine most students do to prepare for her exams and presentations," Steve Nava, her sociology class professor, said. "She showed a lot of motivation to do well."
Kelsey said that De Anza's professors cooperated with her, giving her the assignments that needed to be accommodated ahead of time and asking what they could do to help.
Clinchard and Nava both said they enjoyed working with Kelsey, calling her a hard-working and inspiring student.
" I t 's not the faculty; it's the administrators in DSS that are the problems," Kimberlee said.
The difficulties Kelsey faced increased when, close to the end of the fall quarter, DSS changed the way Kelsey took tests.
"Upon discussion with my supervisor, we cannot allow a private tutor, not employed by De Anza, to accommodate your test," Shears said in her email to Kelsey.
Kelsey said she felt frustrated with the last-minute decision. She also said that the person the DSS did provide wasn't trained by her mother who knows her learning style best.
Shears said that if students choose not to use their services, they are not forced to do so.
Kelsey is not alone in her frustration with DSS, she said.
"I was in Student Services having so much trouble," Kelsey said. "I know that if they are doing it to me, they are doing it to other people."
Kimberlee said that other students with disabilities might go along with what DSS offers even when it is not enough; they are not used to fighting for their rights.
Shears said that college is the place students with disabilities have more freedom in and responsibility for their accommodation process.
"We take our lead, in colleges, from the student," Shears said. "Here, they learn how to advocate for themselves and articulate their needs."
After having her needs unsatisfied by DSS, Kelsey decided to transfer to Grossmont College in San Diego.
"I had to, since the access to my education was essentially blocked and prohibited by DSS Dean Stacy Shears and Dean (Stacey) Cook," Kelsey said.
Regardless of their decision, Kimberlee doesn't see the situation as unsolvable.
"It takes a lightning rod," she said, "and the only way you can get the bureaucracy to change what they do is if it becomes public."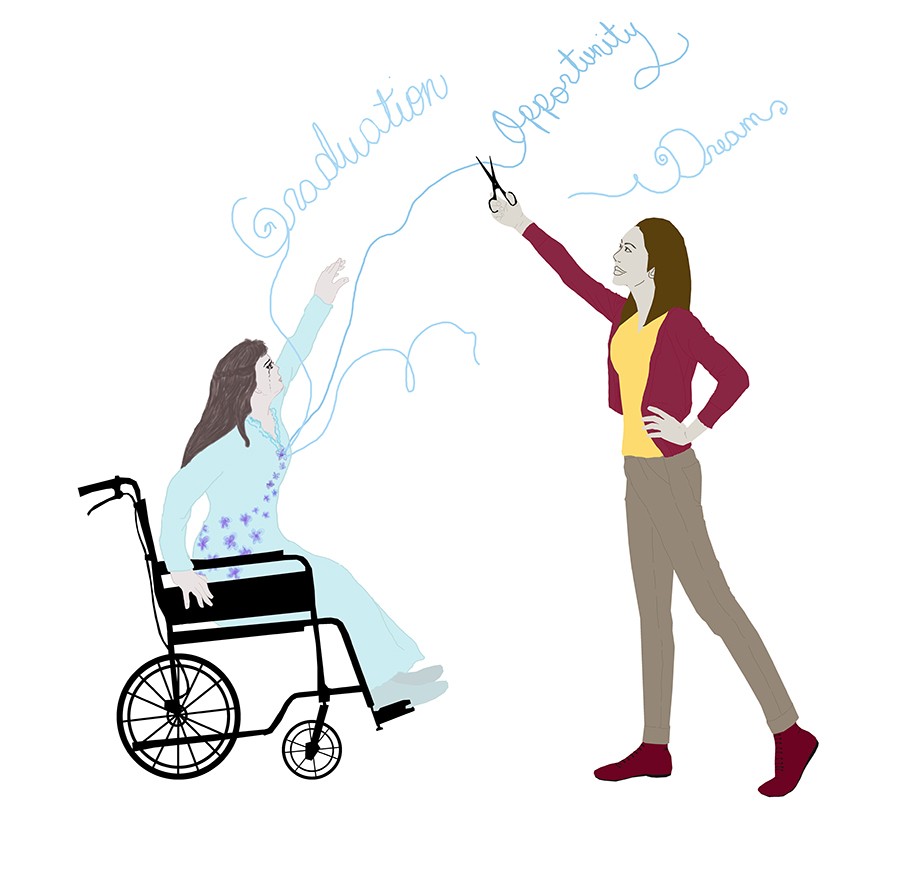 Photo Credit: Wendy Hernandez
Kelsey's story
Kelsey was born on the 24th week and the doctors said she wouldn't live a year. When she was 1, they predicted she would die at 3. Kelsey turned 21 on Nov. 8 and is alive in the true sense of the word. On her birthday, she participated by indoor skydiving.
"Kelsey is curious about the world and not afraid of life," Clinchard said.
She is a joyous and funny person who loves rollercoasters and pink nail polish, said her friend Mina Aslan,19, liberal arts major.
"She is really girly," Aslan said, 19, "but she is also that type of girl to go to Las Vegas on her 21 birthday."
Throughout her life, Kelsey has been committed to everything she did, Aslan said.
"She inspired other people to step up and do their work," Clinchard said. "She was a role model for other students, because they looked at what she was doing and were thinking 'why am I complaining?'''
Regardless of the challenges in her academic career, she was also a DASB senator during summer quarter.
"She did things that people with fewer challenges would be afraid of doing," Clinchard said.
As a senator, Kelsey O'Malley said she wanted to help students with disabilities at De Anza.
"We got all excited because we got a senator that represents us," Inclusability Club co-chair Marquis Johnson said.
In September 2014, Aslan got a call from Kelsey O'Malley who was in the hospital.
"It was 11 at night, and she was really lonely," Aslan said.
Her mother was having a surgery at that time and couldn't be with Kelsey. Aslan came to visit her friend and stayed with her. That night, Kelsey told Aslan she is moving to San Diego.
Aslan said that she is sad her friend left the Bay Area, but she knows she can always visit Kelsey. Besides, Kelsey's dream university is in San Diego, and one of her main qualities is determination, Aslan said.
When you first meet Kelsey, you might feel sorry for her because of her situation, Aslan said.
"Disability makes it hard to see the person," Johnson said. "You see the disability."
"When you get to know her, all these things become irrelevant," Aslan said. "All you see is a friend."