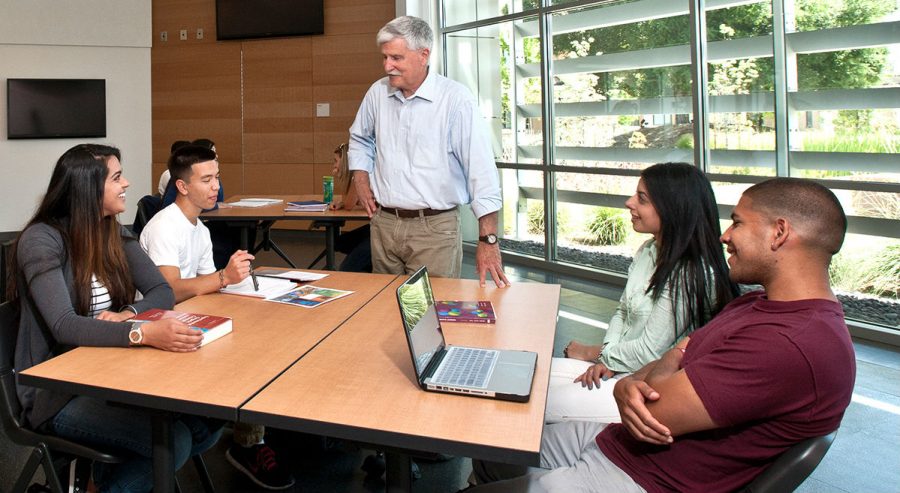 After 14 years as president of De Anza College, Brian Murphy leaves confident in the continuing success of De Anza.
Murphy said when he first came to De Anza, the school was already well-established.
"It had strong leadership; it had superb faculty; it had an excellent district; it had a good board of trustees," he said.
"Part of the goal was to maintain that – to take its reputation, and to build on it."
His two goals were to further diversify the student body, and to bring an agenda of civic and political engagement.
According to a demographic research by the Foothill-De Anza district, the percentage of Hispanic students and Asian students has increased over Murphy's presidency. The Asian student demographic increased to 38.6 percent in 2016 from 33.7 percent in 2004, and the Hispanic student demographic increased to 27.3 percent in 2016 from 12.8 percent in 2004.
"I think we did a good job," said Murphy. "The college is a lot more diverse than it was then."
His next ambition of engaging students in civic work contributed to the creation of many on-campus organizations including VIDA and LEAD.
Students "deserved to have an education to democratic power," said Murphy.
He said he wanted students to be able to understand policy issues, to organize and to understand political life.
For Murphy, his proudest moments at De Anza has always been the commencement every year.
"Watching men and women that we have come to know… and to watch them walk across that stage and get that diploma is an incredibly powerful moment," he said.
Murphy's retirement comes as the district is undergoing budget cuts, but he said he is not concerned at all.
"The men and women who sit around this table and the staff and faculty who meet in the budget teams, these are really good people," said Murphy. "There's going to be stability; there's going to be continuity."
In his retirement, Murphy said he will continue to work in organizations dedicated to engaging more students in the electoral process, but his main priority is to take care of himself.
"My first responsibility is to exercise, eat well and stop driving so much," Murphy said.
He said he plans to work with The Democracy Commitment, a non-partisan national organization that he founded, aiming to engage students in civic learning.
Murphy will no longer be directly involved with De Anza after he retires.
"I'm not going to be on campus," said Murphy. "Nothing worse than the previous guy hanging around."