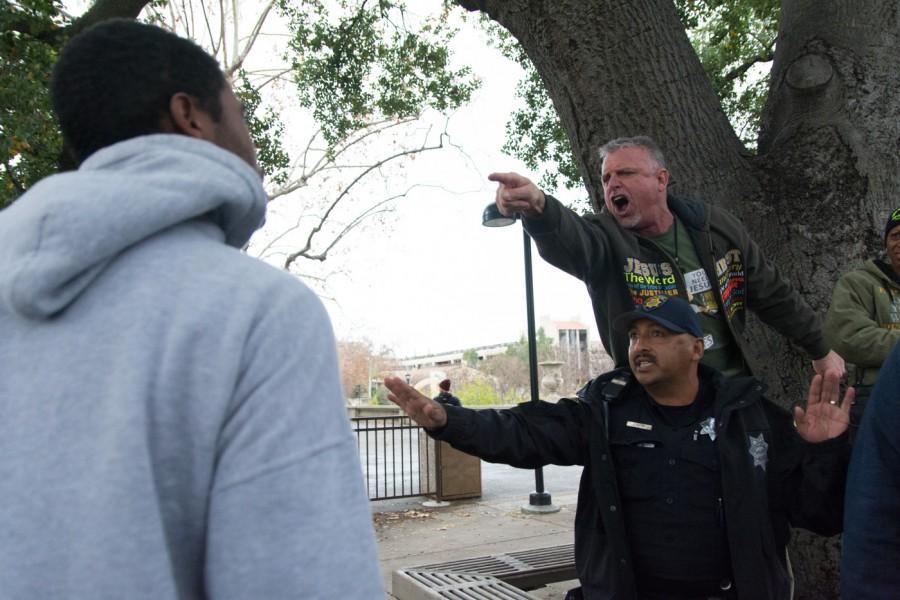 Adrian Discipulo
De Anza College students have gathered more than 550 signatures on an online petition urging administrators to regulate "hate speech/discrimination," following recent campus visits by loud Christian preachers.
The petition calls for the college and district administrations to disallow speech that leaves students feeling verbally abused on the basis of their ethnicity, gender, religion or sexuality. It can be viewed here.
Elias Kamal, a political science major who started the petition, wrote "free speech is a vital part of society," but added that harmful speech that angers students should not be permitted.
Many petition supporters posted affirming comments. DASB senator Elaine Edberg, 21, sociology and philosophy major, wrote, "There's a difference between hate speech and free speech and these hatemongers need to be put in their place (and away from our school)."
Kamal and others presented the petition to the FHDA Board of Trustees at its meeting Monday, Jan. 11, and it was also discussed at a DASB Senate meeting two days later.
FHDA Chancellor Judy Miner took questions from DASB senators and spoke about the issue for 10 minutes at the Wednesday meeting.
"We will never be able to prevent people from saying things that are hurtful, that are offensive," Miner said. "Unless someone is blocking an entrance or doing something that is unsafe, they have a right to hand out their leaflets or to approach people and ask them to think about what they're doing."
Arjun Gadkari, De Anza student trustee on the FHDA board, said he thinks something can and should be done about the "targeted verbal violence."
"Our students need to feel that they are safe when they're passing by corridors on campus, without worrying about being targeted for what they look like … I don't think we should ever tolerate that," he said.
The FHDA district paid an undisclosed sum to settle a free speech lawsuit by anti-abortion protesters in 2005.
"(Protesters) can come in and say, 'You know what, our rights were abridged, and we will settle with you out of court for X amount of dollars,'" Miner said at the DASB Senate meeting, referring to the 2005 settlement.
Anti-abortion protesters and preachers who offend students aren't the only ones winning settlements from public colleges that challenge First Amendment rights. Recent settlements, according to the Foundation for Individual Rights in Education, a Philadelphia-based non-profit:
A student collecting signatures for a petition opposing NSA surveillance was paid $110,000 by Citrus College in Glendora, California, in 2015. Administrators tried to restrict where the student could collect signatures.
A student who had been ordered not to hand out copies of the U.S. Constitution on Sept. 17 (Constitution Day), 2013, was paid $50,000 by Modesto Community College in 2014. The college also changed its restrictive policy.